Seminarians Researching At The Jesse duPont Library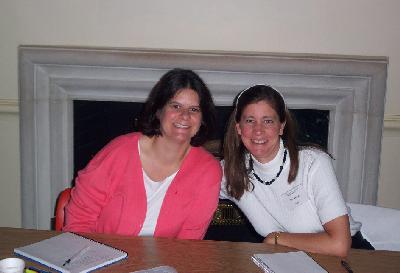 Lisa Walligora and Lisa Racine
---
| | | |
| --- | --- | --- |
| Phil Schwarz and Julie Reiter | Lisa Racine | Robert Domiguez |
The Jesse duPont Library provides a rich environment for the research Stratford Hall Seminarians conduct while at the Seminar on Slavery. The library was a gift of the duPont Trust and was named after Jessie Ball duPont, a native of the Northern Neck, a teacher, one of Stratford's original board members and the wife of Alfred duPont of Delaware.
The main room contains hundreds of rare books, including signed copies of books by the Lee family, Douglas Southall Freeman, and original copies of the Southern Literary Messenger edited by Edgar Allan Poe.
The downstairs research room is where the seminarians do the bulk of the research work. Here they use primary sources to create lesson plans based on their studies to educate their children on the legacy and issues of slavery.

| | | |
| --- | --- | --- |
| Cathy Cweik and Eve Iversen | "Look, we're on the Internet!" | Dennis Lawrence |