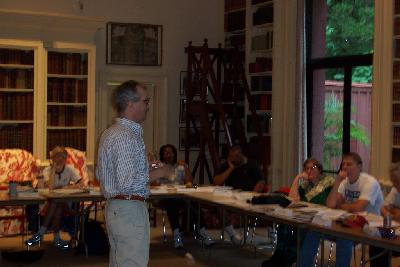 Turk McCleskey: Edward Tarr

"Anonymous Free Black Artisan Lives Openly with White Woman;
Entertains Moravian Ministers; Speaks German with Them"

---
Dr. Turk McCleskey of Virginia Military Institute modeled the interactive questioning methods seminarians should use with their students when analyzing primary sources. He presented them with a variety of primary sources, and asked them to make assumptions about their meaning and significance. Slowly the story of Edward Tarr, an African American living with a white woman on the Virginia frontier, emerged. The African American blacksmith and a white woman lived in relatively peaceful coexistence with their neighbors for a time.

In 1778, Edward Tarr purchased his freedom at the death of his master, a Philadelphia Quaker. By 1752 he was living in Virginia and he eventually set up a blacksmith shop on a busy wagon road. He became the first black landowner in Virginia west of the Blue Ridge Mountains. He lived openly with a white woman until he sold the land in 1772. During this time he sued a white man for unpaid bills and won; he was charged by a grand jury for selling unlicensed beer; Ann Moore was sued for cohabiting with a Negro; he successfully resisted being reenslaved.
In this exercise, the seminarians discovered a human being struggling to survive day to day in an extremely unlikely setting. Underlying the tale is the pervasive effects the system of slavery had on limiting and preventing black autonomy within the colonial era.

Dr. McCleskey reminded seminarians that each story differs according to time and area.